Sometimes the best way to witness planetary happenings – and to gain perspective on them – is from high above. Below are satellite images and aerial photos from the NASA Earth Observatory that capture some of the more dramatic changes that shaped the earth over the past year.
Large rivers run atop the Greenland ice sheet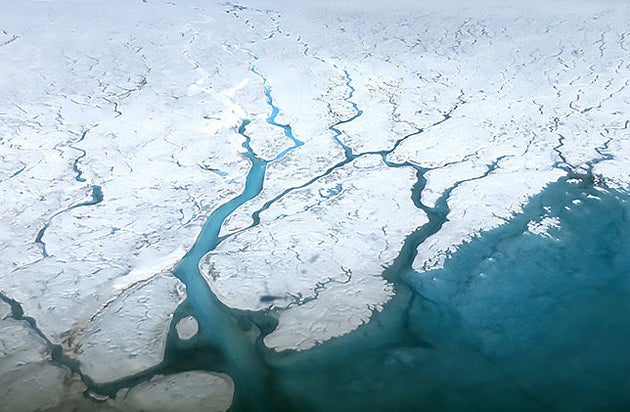 NASA
This aerial photo captured in July shows large, fast-flowing rivers on top of the Greenland ice sheet abruptly dropping into a seemingly bottomless moulin, or sinkhole, in the ice. The shifting network of streams and rivers that form during the summer melt season can transport water from the surface of the ice to the ocean, gradually eating away the frozen mass. A slew of recent research has shown that the Greenland ice sheet, composed of some of the planet's largest glaciers, is steadily losing more ice in the summer than it gains in the winter.
Man-made fires blanket Indonesia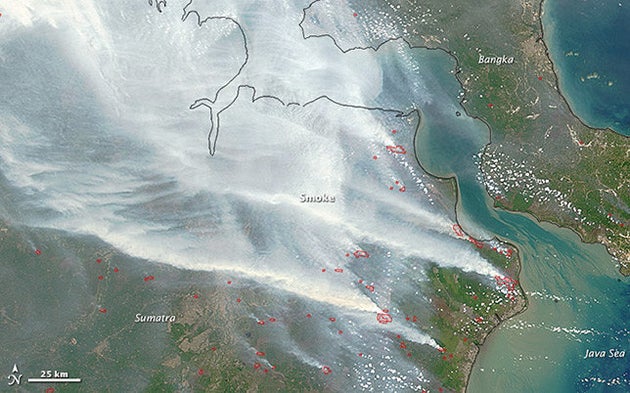 NASA
This late-September NASA satellite image shows the massive plumes of smoke blanketing Sumatra, Indonesia, as peat fires burned uncontrolled. This was a record year for fires in Indonesia, and tens of thousands of infernos released clouds of particulate matter and toxic gases over the region – a process that repeats itself year after year as property owners clear their land of debris for farming. [Read more: As Indonesia Burns, Its Government Moves To Increase Forest Destruction]
A town is buried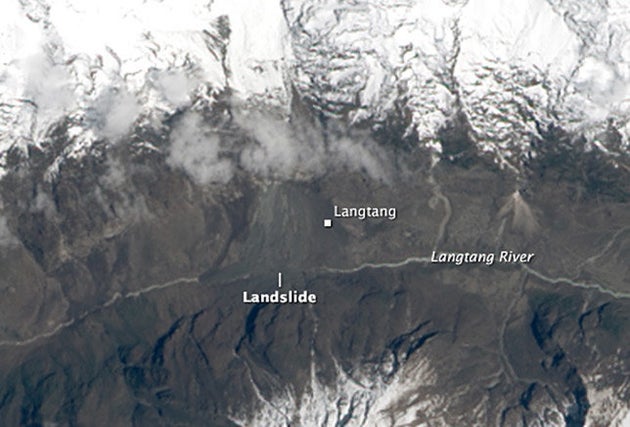 NASA
The Nepali village of Langtang, which was located along a popular trekking route near the base of Mount Langtang, was completely buried by an avalanche this spring. The ice and rocks were shaken loose by the devastating earthquake that struck central Nepal on April 25, 2015.
A island is born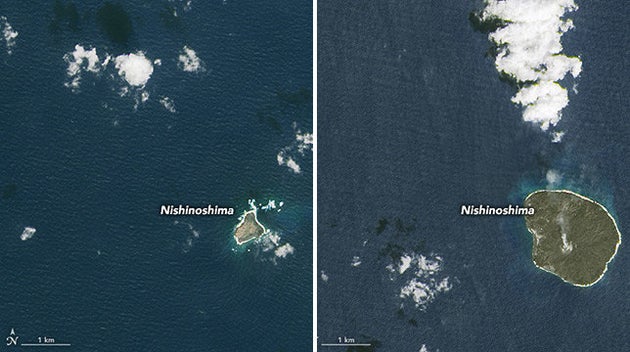 NASA
Two years ago, a new volcanic island (barely visible in the left image) broke through the waters of the western Pacific roughly 600 miles south of Tokyo and just a quarter of a mile southeast of Nishinoshima, an existing volcanic island. Over the past two years, the new island grew quickly and swallowed up its neighbor. The merged island, which is keeping the name Nishinoshima, is now 12 times the size of the original.
Toxic mining waste spews into Brazilian river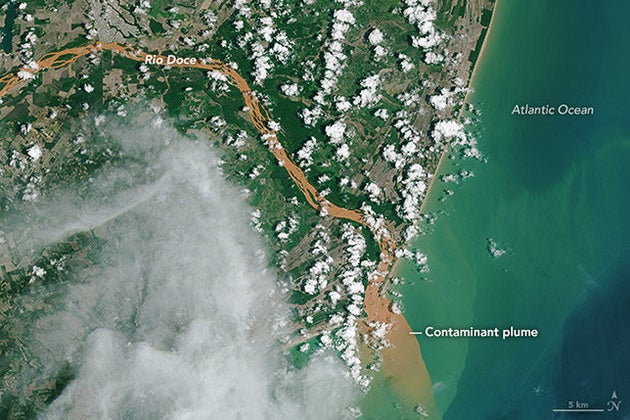 NASA
On November 5, 2015, the dam securing a tailings pond failed at an iron mine in southeastern Brazil. The dam break sent water and sediment contaminated with toxic mining waste into tributaries of the Rio Doce, releasing nearly 16 billion gallons – the equivalent of 25,000 Olympic swimming pools or 187 oil tankers – of contaminated material. The polluted water appears red in this image because it's laden with oxidized iron and other metals.
A severe drought dries up the western United States
These satellite images show the snowpack on the Sierra Nevada amid the wet year of 2011 (left) and the dry year of 2015 (right). Rivers, reservoirs, and groundwater supplies depend on melting snowpack for replenishment, especially amid the ongoing severe drought in California and other Western states. By March 2015, about one-third of monitoring stations in the Sierra Nevada recorded the lowest snowpack ever measured. Some sites reported no snow for the first time.
Beijing issues its first ever air pollution "red alert"
NASA
As world leaders met in Paris for the United Nations climate conference, residents of Beijing and other cities in eastern China faced some of the most severe air pollution the nation has experienced, as seen in this satellite image captured on November 30. Roughly a week later, Beijing issued its first-ever "red alert" due to dangerous levels of smog – visible as brown- and yellow-tinged haze in this image – placing severe restrictions on the daily activities of the capital city's residents.
Historic rainfall in India follows harsh monsoon season
NASA
In early December, the Indian city of Chennai received more rainfall in 24 hours than it had seen on any day since 1901. The brightest spots in the above NASA satellite imagery show areas that accumulated 16 inches of rain or more in a 48-hour period. The deluge followed a month of persistent monsoon rains that were already well above normal for the region, and the pattern was intensified by record-warm seas and the long-distance effects of 2015's El Niño.
(Source: HuffPost)